DUCK & HiPPO Corporate Card
Your Key to Fun Rewards
For the first time ever, you can reward your employees with a splashin' good time on board the Original DUCKtours – Asia's first amphibious-themed attraction. A unique 60-minute city and harbour sightseeing adventure on a genuine Vietnamese war craft, you'll have unlimited* opportunities to get up close to the iconic architectural wonders dotting Singapore's skyline.
The Friends of the DUCK Corporate Membership programme is proving to be hugely popular with established organisations. With Corporate Membership, companies and institutions can now offer staff members, their friends and family members FREE DUCKtours admissions 365 days throughout the year!
That's not all - Staff Members are also entitled to special privileges such as discounts on other top tours and attractions in Singapore. Whenever there is a new tour at BIG BUS & DUCK, members can look out for special opening privileges too.
We offer 3 categories of memberships: Platinum memberships with 4 cards, Gold memberships with 2 cards, and Silver memberships with 1 card.
On top of that, with just a small top-up, members can participate in the Corporate Letter Scheme as an alternative to receiving physical corporate membership cards. Staff may now present a corporate letter in place of a physical card for DUCKtours admissions or any other corporate membership benefits. Minimise administrative hassle and reduce any possibility of losing cards!
Category
Number of Cards
Annual Fee
Platinum
4
S$19,700
Gold
2
S$11,700
Silver
1
S$7,700
Corporate Letter Scheme*
N/A
S$4,700
* in addition to membership
So what are you waiting for? Drop us a note and this could possibily be the best membership card that offers staff and families great fun all year round!
Tell Me More
General Tour Information
Singapore DUCKtours
Operates daily from 10 am to 6 pm
Tour Duration: 1 hr.
Departures: Hourly.
Do call our helpline or visit www.ducktours.com.sg for more information.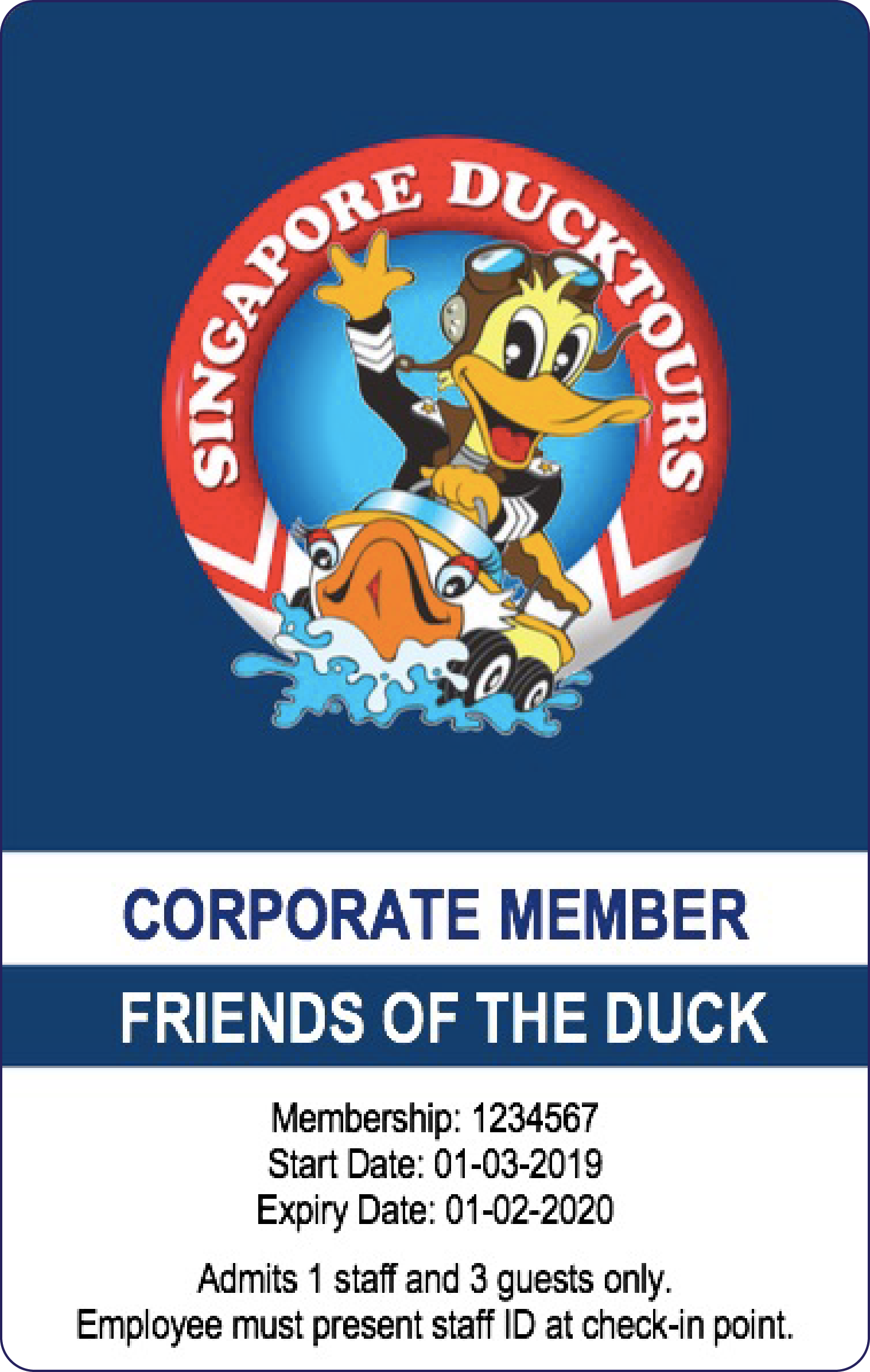 Complimentary admission to DUCKtours* ride for 1 employee and up to 3 accompanying guests per day, per card.
10% discount on selected retail merchandise.
10% discount on selected food and beverage items.
20% discount on birthday charters.
* Applicable for standard tours only. Does not include special themed tour programmes.
Check out the Special Members-Only Periodical Promotions here.
Click here to download the Benefits Guide.
Special Members-Only Promotions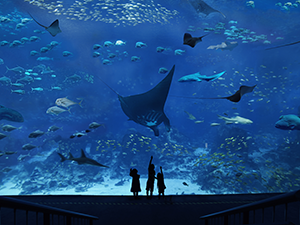 S.E.A. Aquarium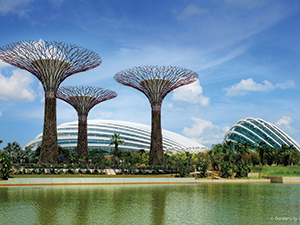 Gardens by the Bay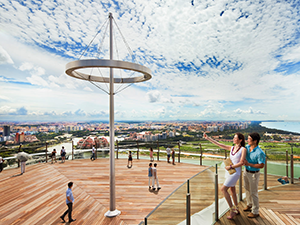 Marina Bay Sands SkyPark
Terms and Conditions
Please present your staff ID and Corporate Card to enjoy these promotions.
We reserve the right to make changes or corrections, alter, suspend, discontinue or withdraw any aspects of promotions available at any time without prior notice.
Are the corporate membership cards valid for use on Public Holidays?
Yes, your staff is able to use the corporate membership cards on Public Holidays.
Are we allowed to use to the corporate membership card twice per day?
Our corporate membership card can only be used once per day. Any subsequent entry will be charged at the attraction's prevailing admission rates.
What do we do in the event that we lose our corporate membership card?
Loss of membership cards must be reported to the Corporate office (). A replacement fee applies.
How long is the validity of your corporate membership?
Our corporate membership is valid for one year.
Are you able to shorten/extend the validity period of your corporate membership?
The validity period of our corporate membership is for one year and we are not able to shorten or extend it.
How long does it take to process the corporate membership?
The completed application form has to be submitted at least 30 days prior to the commencement of the corporate membership to ensure that there is sufficient time for processing.
Who do I contact to obtain more information with regards to corporate memberships?
Do contact us at 6338-6877. Alternatively, you may email us at
What are the documents required for entry? Please see below for specific information:

Is there a need for my staff to be present at the point of admission for their accompanying guests to access the attraction?
Yes, a staff of the company must be present at the point of admission for benefit to be valid. This is to prevent any misuse of the corporate membership by unauthorised person.
In an event where my staff/colleague does not own a staff pass, what are the alternatives that you can propose?
In the instance where the guest is not able to provide proof of employment in your company, we would require an official authorisation letter to be issued by your company's HR department to authorise the usage of the cards. In order for us to verify that the authorisation is valid, kindly refer below for the requirements for the authorisation letter.



Original company letterhead
Date of Visit
Employee's name IC/Work Permit No.
Employee's department & designation
Original HR authorised signatory
Each card allows complimentary admission to the amphibious Singapore DUCKtours for up to four persons, one of whom must be an employee of the corporate member. The employee must accompany sign-in guests for tours at all times. This card is strictly for staff of corporate member's use and is not transferrable.
Staff is required to present Corporate Membership Card together with proof of employment (i.e. staff ID) at check-in point at the DUCK & HiPPO Tourist Hub @ Suntec City (#01-330).
Card is strictly valid for a one-time use per day, per card.
Prior to check-in, members must make advance phone reservations for the tour and quote membership number as well as desired tour type, tour date and time.
Member privileges offered are strictly for standard DUCKtours rides only.
Member privileges are not valid with other offers and promotions.
DUCK & HiPPO reserves the right to amend membership benefits. Please check back at the Memberships Benefits section regularly for latest updates.
By using this card, members and their guests accept the full trading terms of DUCK & HiPPO, including but not limited to the Corporate Membership Terms & Conditions listed on this page. For full list of Terms & Conditions relating to the DUCKtours ride, please visit this page.
DUCK & HiPPO reserves the right to deny entry, suspend or terminate a membership without liability or refund if any of the terms of the membership are not complied with or if the privileges are abused. In all disputes, DUCK & HiPPO's decision shall be final.
This card is a property of DUCK & HiPPO and shall be returned upon request. If found, please return to DUCK & HiPPO at 82 Amoy St, #03-00, Singapore 069901.
Contact
Email us at or call us +65 6338-6877 for more information.