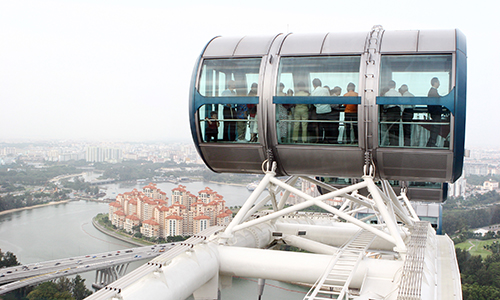 Sorry, Currently Unavailable
DUCK + Flyer
Overview
Start your tour with a ride on the ORIGINAL DUCKtours*! Embark on a land and sea adventure on a remodelled WWII amphibious Vietnamese war craft that promises you the best sightseeing experience where you view Singapore's famous skyline, historical landmarks and gorgeous bay in close proximity. Complete your tour with a ride on the Asia's largest observation wheel at 165 metres above and catch the breathtaking view of Singapore's major landmarks from Marina Bay and beyond.
*DUCKtours depart hourly from Suntec between 10am and 6pm. Reservations needed for all guided tours.
Note: Flyer ride in $aver Combo is applicable from 9am to 8.30pm.
Location: Singapore
Duration: 60 mins on DUCK & 30 minutes on Flyer
Highlights
Duck

The ORIGINAL wacky DUCK takes you on an exciting journey on land where you check out the historic Civic District before splashing down into the Singapore River and Marina Bay for a close-up view of Singapore's iconic architectural wonders. These are some of the key sights on this tour:

Fountain of Wealth - Listed by the Guinness Book of Records in 1998 as the largest fountain in the world, the inward motion of the water is a symbol of wealth and the essence of life.

Singapore Flyer - Feast your eyes on Singapore's magnificent cityscape from a height of 165m on the Asia's largest observation wheel.

Esplanade - Check out this architectural icon with its distinctive twin shells, which houses world-class performance spaces.

Civic District - See Cenotaph, Singapore's first major war memorial; the Singapore Cricket Club, one of Singapore's premier sports and social clubs, and more.
Flyer

Luxuriate in the capsule of Asia's largest observation wheel while a panoramic view of Marina Bay and other defining skyscrapers unravels.
What to Expect
Duration: 60 minutes on DUCK and 30 minutes on Flyer.
Attractions: DUCK, Civic District and Singapore Flyer.